Why Join BSC Optometry?
---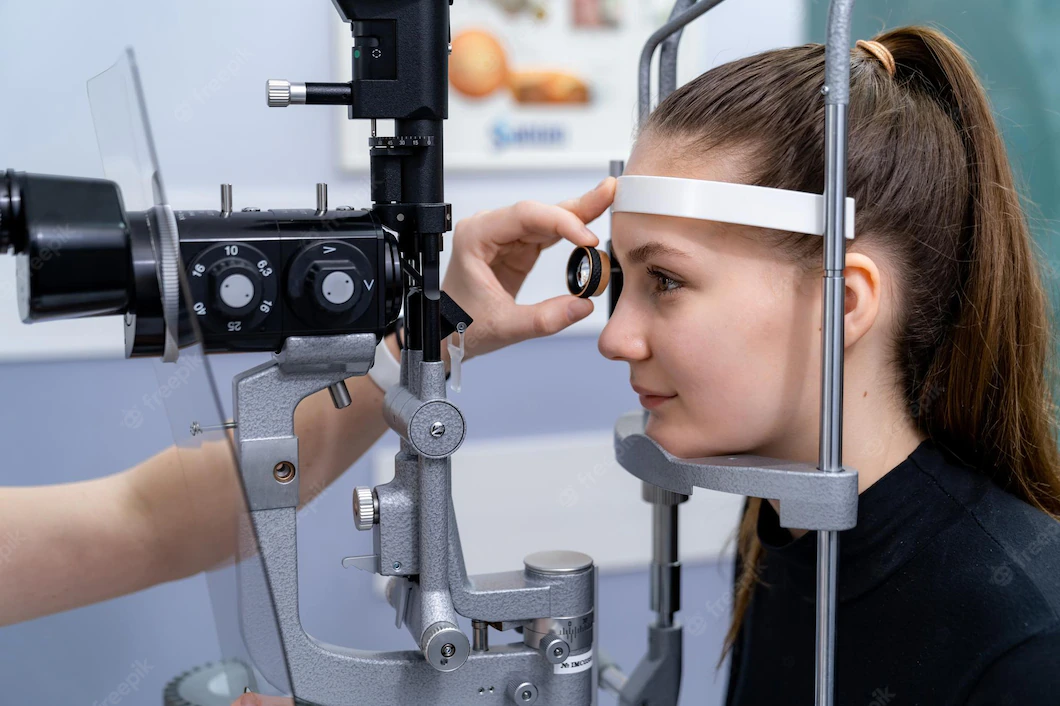 Introduction
Optometry is an exciting field of medical sciences. The profession involves diagnosis and treatment of various ophthalmic disorders. BSC Optometry covers the complete range of knowledge, skills, and competencies to meet the challenges of today's health care delivery systems in India.
Here are the 10 reasons on why join BSC Optometry:
Expert FACULTY

State of the ART INFRASTRUCTURE

Qualified & experienced EXAMINERS

Small class size for individualized attention

State of the ART OPD

Excellent placement records in various sectors

Training in ESSILOR Instruments

COLLABORATION with well-known OPHTHALMOLOGISTS

Excellent record of achievements to its credit.

10 Practical Exposures from Day 1
Expert FACULTY
BSC Optometry has a faculty that is well-experienced, well-qualified, well-trained and well-motivated. The faculty members are also highly respected in the community and have an excellent reputation for their teaching skills. They are also connected to important people in the industry which will help you gain contacts and make connections leading to your future career success.
State of the ART INFRASTRUCTURE
BSC Optometry is a state of the art facility. The building boasts an eye clinic, a lecture hall, an ocular lab and an optometric clinic. All these are equipped with state of the art technology such as microscopes, slit lamps, auto refractors etc. The equipment used in BSC Optometry is manufactured by world renowned brands like Zeiss but their cost is far lower than any other brand in the market.
Qualified & experienced EXAMINERS
In addition to a qualified and experienced examiner, we have examiners who are from different parts of India. We have examiners who are from different parts of the world. We also have examiners that come from different parts of the country. They come to us with their years of experience in their respective fields and they help us maintain the high standards that we set forth for ourselves as a company and ensure that when you come through our doors, you know you will receive the best possible care.
Because it's not just about giving an eye exam—it's also about making sure someone is getting their money's worth!
Small class size for individualized attention
This is one of the best features of BSC Optometry. The small class size allows for more student-teacher interaction, which leads to better learning and retention. You will also have increased student-student interaction because the number of students in each class is limited. You will be able to build relationships with your classmates, who are all going through the same difficult coursework as you are!
There's no doubt that this will lead to an overall improved experience at our school, allowing you to not only develop technical skills but also become more confident in yourself as a future optometrist or ophthalmologist!
State of the ART OPD
It is modern, spacious and well-ventilated with all the latest equipment and technology available. They have a capacity of 50 patients at one time in our OPD. They have a total of 6 Doctors working in this department along with multiple supporting staff such as Nurses, Dispensers, and Medical Record Clerks etc., who work under the guidance of Dr. Director. This is something where every Optometry student get inspired and influenced. And for many, it's a dream to get a part in it.
The equipment used by the Dr. includes:
SONY 16'' LCD colour monitor with auto focus lens which helps in delivering better eye care through digital diagnosis & prescription writing capabilities;

JVC CINEALITY HD CAMERA – Full HD resolution camera that allows high quality video capture & recording along with audio output via headphones;

LUMIX DMC-FZ200 Digital Camera – Leica lens, 20x optical zoom capability makes it ideal for capturing images from far distances without losing any details;
The diagnostic tools include:
REVO STIMULATOR – A unique device that can be used to check whether there is any blockage/blockages present in blood vessels supplying oxygenated blood to eyes or not before doing any treatment on them (such as cataract surgery);
Excellent placement records in various sectors
BSC Optometry has an excellent placement record across various sectors. Placement records have been consistently good in the last few years and have improved steadily over time. The graduates of BSC Optometry are highly sought after by corporate houses, who appreciate their knowledge, skills and abilities to perform well at work. The placement cell at BSC Optometry organizes workshops to polish the skills of students so that they are better prepared for interviews and other recruitment processes.
Training in ESSILOR Instruments
ESSILOR is the world leader in ophthalmic lenses. There are more than 1,000 ESSILOR laboratories around the world, offering a wide range of services for quality control. ESSILOR provides a full range of lenses to meet all needs: binocular glasses, contact lenses and intraocular lenses. The company designs and manufactures high-quality products with innovative technologies while also providing its customers with personalized solutions adapted to their specific needs.
COLLABORATION with well-known OPHTHALMOLOGISTS
You will be working with some of the best in the field. Our professors are well-known ophthalmologists and they have been around for a while. They have seen and done it all, thus they know exactly what you need to learn to become a successful ophthalmologist.
In addition, our students also get trained in well-known ophthalmology centers, hospitals, institutions and societies – where they get to meet other like-minded professionals who share their passion for this field.
Excellent record of achievements to its credit.
BSC Optometry is a well-known name in the field of optometry. It has been offering quality education to students for over 30 years, and its alumni have gone on to achieve great heights in their careers.
BSC Optometry has a good placement record with its students getting placed in top companies like HCL, Infosys, Wipro, Cognizant etc., due to their knowledge and expertise gained during their course.
The Right institute For BSC Optometry also boasts of being consistently ranked amongst the top 10 colleges in India by various league tables such as NAAC & NIRF; this is proof enough of BSC Optometry's commitment towards providing quality education to its students.
Practical Exposure from Day 1.
You will be exposed to various Optometric practices on your very first day at the college. This gives you an opportunity to gain experience in the field and make a difference as an optometrist with your colleagues.
Will be trained in both theory and practical using state-of-the-art technology during our clinical clerkship training programme, which is essential for learning how to diagnose and treat patients properly.
Theory classes are taught by highly qualified lecturers who are experts in their own fields of study. They provide students with sufficient knowledge about different diseases that can affect human health so that they would be able to identify these conditions more effectively when they start working as optometrists after graduation from BSC Optometry.
Reasons on Why Join BSC Optometry?
Here are 10 reasons of why you should join BSC Optometry:
The

Best college of BSC Optometry

has a very good placement record.

It has a very good infrastructure and facilities for students to study in peace and tranquility

It has got very good faculty members who have a lot of experience and expertise in their respective fields who help the students in all possible ways so that they can get better results and become successful in life

It is known as one of the best optometry colleges in India
Conclusion
BSC Optometry is the best choice for Optometry courses, with all of its special features and modern infrastructure. But one should also be mindful of choosing the right institute for Optometry course.
If you have any questions about this topic or need more information comment down below.
Need help
choosing a Program?
Talk to us about which program best suits your professional career.
Enquire Now
---
Enquire Now